I have to admit, when I was on the hunt for a Greek island getaway to top off our month-long Europe trip, traveling to Santorini was towards the bottom of the list. Why? Because EVERYONE travels to Santorini. It's very touristy and I was looking for the quintessential Greek island without the crowds.
So how did we end up there in the end? Well, it was easy to get to from Athens to Santorini. The quick 30-minute flight from Athens to Santorini was a huge draw since we had limited time and didn't want to spend most of our time in transit. Also, I had never been to Santorini and felt like I needed to give it a shot at least once. It was Eric's first time in Greece, so going to a touristy spot to get a taste of Greek island life seemed to be the right choice.
We knew there would be crowds, but we didn't realize how much it would affect getting around the tiny town until we arrived. It was not pleasant at times, but if you are prepared for this ahead of your visit and know what to expect, it will make much less of an impact on your trip.
We had one planned day and one non-planned day on Santorini. Many people will tell you to just go and have a relaxed time there. If you are staying in a 5-star villa with a pool and don't plan on leaving your place most of the time, then this might be true for you. But we like to get out and do things when visiting a new place.
We decided to book a sunset sailing cruise with Sunset Oia on our first full day in Santorini. This was the best decision we could have ever made. After experiencing the massive cruise ship crowds descending on Oia around 11:00 am that day, we were excited to leave the chaos for the afternoon.
We didn't have a plan for the next day and I think that was a bit of a mistake. We just wandered around Oia, which was pretty, but I think if we went back I would have planned on seeing another part of the island.
If you want a comprehensive list of the best things to do on Santorini, read this post. There are so many great ideas if you're like us and enjoy a little adventure mixed in with your relaxation.
If you're interested in the catamaran tour we took, here is the link: Sunset Oia Shared Catamaran Tour around Santorini
2. How to deal with the crowds in Oia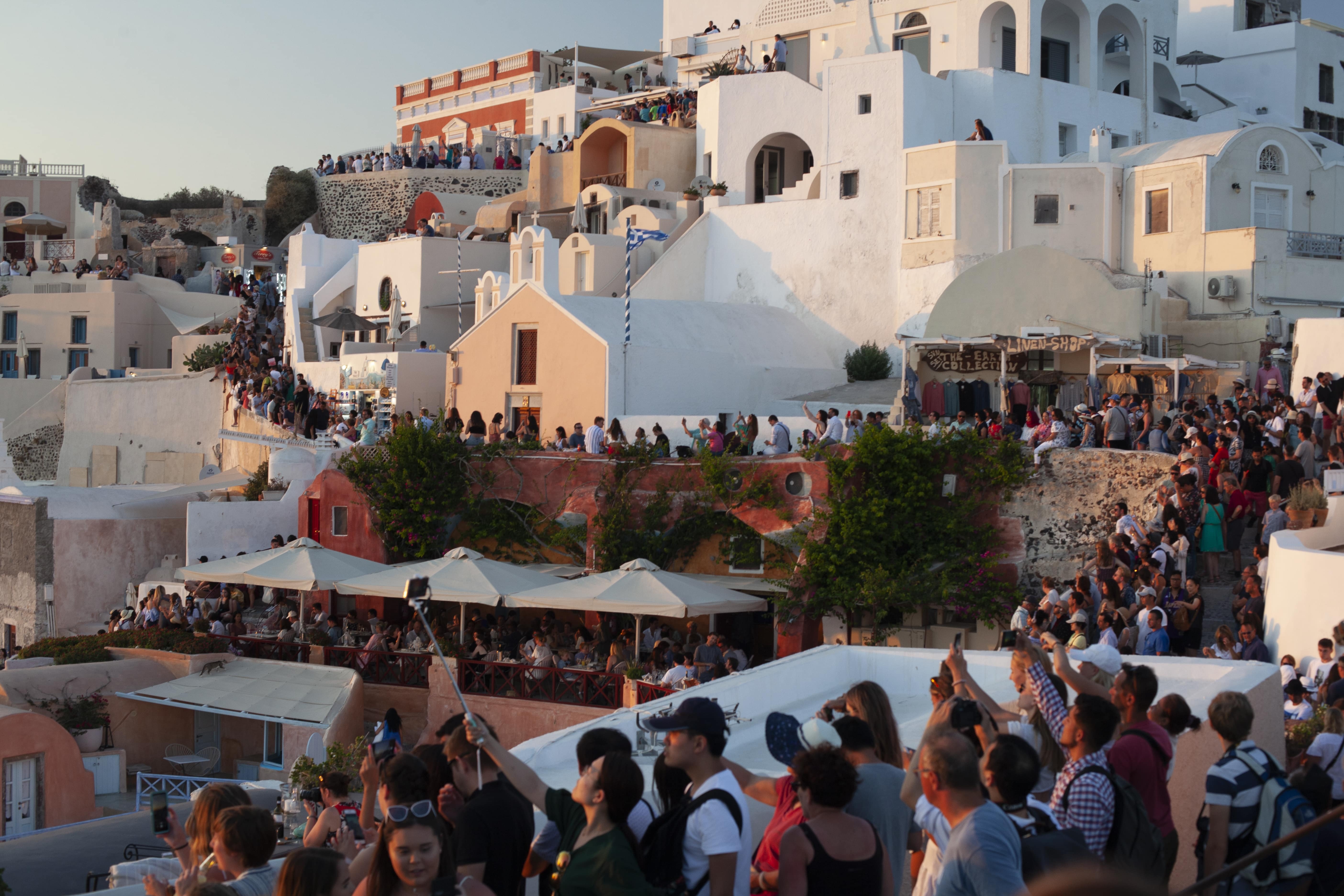 We knew there would be crowds on Santorini. However, we didn't realize just how much those crowds would affect our stay. There were times when I was so annoyed with the people clogging up the pathways that I just wanted to go back to our Airbnb and stay there. If you are dying to go to Santorini, by all means, GO. Do not let this deter you. However, there are a few things you can do to keep yourself sane.
Wake up EARLY and explore Oia at it's quietest. If you take one thing from this article, let this be it. It was amazing to me how going out between 7:30 am – 9:00 am made this town look like how it probably looked 50 years ago; peaceful and beautiful. All the little animals were just waking up and wandering around the empty pathways. It is how Santorini looked in my dreams and this peaceful morning is a memory I will hold on to forever.
Explore other parts of the Santorini. We did a catamaran tour, but I wish we had planned another activity for our second day. I purposefully didn't plan anything thinking we would want a day to relax, but we actually got a little bored! There are so many hikes you can do or rent a motorbike and ride to a more secluded part of the island. There are a few wineries you can visit too. You might be fine if you're staying at a place with a pool, but we definitely could have used another planned activity. For a detailed list of the best things to do in Santorini, read this post.
Be assertive! This was hard for me because I'm very polite. There's no need to be polite here. If someone is taking up the entire pathway trying to get a picture with their iPad in the middle of the day with hundreds of people around, do not feel bad about scooting around them and ruining their picture. *GASP* I know, so rude. But honestly, after this happens to you 10 times, you will understand. Our Airbnb was right below a beautiful blue dome that seemed to be on everyone's picture list. I wish I could find out how many pictures I ruined by running up and down those stairs right in front of everyone's cameras. Listen, we even had people standing in the doorway of our Airbnb getting pictures! It was a little crazy and I became very assertive by the end of our stay.
Plan ahead for the famous Oia sunset. Make a reservation at a restaurant facing west. We decided last minute we would walk over that way and watch it from a random spot. BIG MISTAKE. It was as if every single person on the island went over there at once and we could barely see anything let alone get pictures. We saw people sitting in restaurants all relaxed drinking wine and I realized we should have made one of our dinners a sunset dinner facing west. Check out this post on Santorini Secrets for some great restaurants with a view.
3. Make the most of your Santorini accommodations when it comes to meals
We were so lucky that our Airbnb had a balcony with the most amazing view of the caldera. Because of this, we ate breakfast and lunch from the comfort and privacy of our Airbnb each day. We found a wonderful gyro spot called PitoGyros where we could get our food to-go and then have a picnic on our balcony. It was so fun and inexpensive! Not to mention we didn't have to deal with crowds.
For breakfast, we stopped by the small convenience store near PitoGyros to get yogurts. Our Airbnb supplied us with the most delicious bread each morning, so we had our breakfasts out on the balcony as well. This might not be for everyone, but if you're looking to save a little cash and have a private meal with a view, there's no better option!
4. Prepare for Amoudi Bay
I did not do enough research about Amoudi Bay before traveling to Santorini. It is one of the most beautiful spots in Oia and very popular if you want to go for a quick swim, however, you should definitely prepare for it before you go.
Tips for visiting Amoudi Bay
Bring water. When we were there it was in the upper 80's (F), although it felt way hotter. We were soaked in sweat on the way down and back up.
Wear tennis shoes or at least sandals with straps. The steps are steep and slippery. We both wore flip-flops and that was such a mistake. I would have taken them off if there weren't donkey droppings all over the stairs. These are my all-time favorite travel sandals that I've walked countless miles in and I highly recommend them not only for this activity but for anywhere that is sandal appropriate: Naot Dorith
Don't bring anything of value. We didn't think that there would be so many people down there since it was later in the day, but there were tons. We had our money and passports with us so we had to take turns swimming. If we had known how many people would be down there, we wouldn't have brought any of that.
Be aware of the terrain. This goes back to footwear. The walk to the swimming area is all uneven lava rock. There's also a part where you have to walk across a narrow rock wall with the waves crashing below you. I couldn't do it, so I climbed over a massive hill to get to the other side. Again, knowing what I know now, footwear is key.
The steps going back up are brutal, they even have them numbered so you know how much longer it is to get to the top (270 if you're wondering)! Combine the steps with the heat and it's almost too much. There are donkeys, but they looked so pitiful I couldn't ride them. In my opinion, this is not a "quick lets run down for a swim" type of activity. You should plan to spend a good amount of time there and don't bring anything valuable with you.
If you are really wanting to go to Amoudi Bay but cannot make the trip up and down the stairs, don't worry! You can also get there by taxi from the main part of Oia. Although getting to the swim area will still be a bit of a challenge due to the rocky uneven terrain.
5. Book roundtrip transportation to/from the Santorini airport ahead of time
When we booked our Airbnb in Oia, the host reached out to ask if we would want them to book roundtrip transportation to/from the airport for us. We hesitated because it was a little pricey, but in the end, I'm so glad we did it. Getting a cab to Oia was the last thing I wanted to deal with after flying from Athens to Santorini. Our driver was waiting for us at the airport with our name on a board and then it was an easy trip to the other side of the island.
On our departure day, our flight from Santorini to Athens was at 6:00 am, so we had to be ready to leave from Oia by 4:30 am. Santorini was not bustling that early in the morning so last-minute transportation would have been very hard to come by. We walked to the pick-up point and our driver was there waiting to take us to the airport. Again, it was easy and stress-free.
---
Source: letravels.com