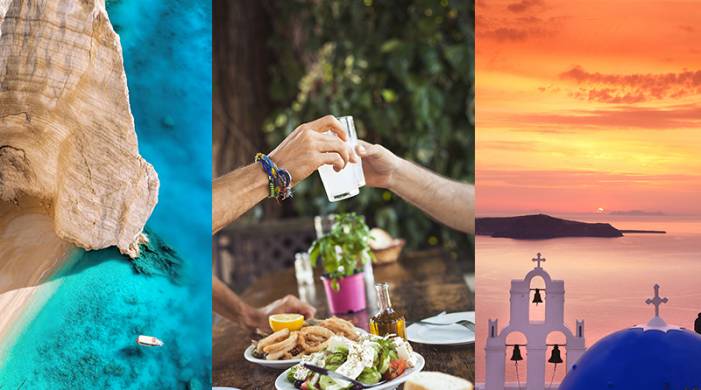 Top 5 Reasons to visit Greece

Greece includes 6,000 islands and islets scattered in the Aegean and Ionian Seas, of which only 227 islands are inhabited. This is a truly unique phenomenon for the European continent.
The Greek Archipelago takes up 7,500 km of the country's total 16,000 km coastline, offering a highly diversified landscape: beaches stretching over many kilometers, sheltered bays and coves, sandy beaches with sand-dunes, pebble beaches, coastal caves with steep rocks and dark colored sand typical of volcanic soil and coastal wetlands
Many of these Greek beaches have been awarded the blue flag under the Blue Flags of Europe Program, providing not only swimming, but also scuba diving, snorkeling, water skiing, sailing and windsurfing.

No matter what time of year you're planning to travel to the Mediterranean country of Greece, you're sure to find unique celebrations, plenty of outdoor activities, and some great tourist destinations to visit. However, it's important to know what to expect when it comes to the weather so that you're able to pack for your Greek vacation.

Greece has a typical Mediterranean climate, which lends itself to mild and often wet winters and dry summers. The country is mostly sunny throughout the year. The northern part of the country can be very cold during the winters, even receiving snow in some areas. Winter is milder to the south.

July and August are the busiest months, but they also have the most frequent transit schedules to more remote Greek islands and perfect weather for outdoor adventures and day trips.

Whether it's helping you get to that secret beach on the other side of the island, treating you to a glass of tsipouro to complement your order or feeding you like you've never had food in your life at a family dinner, Greeks are a warm and hospitable people who love to show guests and visitors a good time.

They will welcome you with open arms if you happen to accidentally crash a wedding in a small village, treat you to a full plate of goodness at the summer Panigiri (a traditional feast celebrated in honor of a saint) or give you a ride to the nearest town if you find yourself stuck in a remote hamlet with no means of transportation. Don't believe us? Come see for yourself.

Greek cuisine is a Mediterranean cuisine, Greek cookery makes wide use of vegetables, olive oil, grains, herbs, fish, wine (white and red), and meat
It has a history of thousands of years with dishes originating from Ancient Greece, continuing into the Byzantine period and surviving until today.

Typical Greek dishes : Souvlaki, Greek salad, Mousaka, Dolmadakia (grapevine leaves stuffed with rice and vegetables), Fava, Spanakopita, Tzatziki, Pastitsio

Greeks know how to party!
Maybe it's the weather, or simply in their blood, but Greeks love and know how to party. Whether it's a birthday celebration, a work promotion, a wedding or simply a Panigiri, you can be sure that there will be music, dancing and of course, loads of food.
And don't be surprised if you see people twice your age showing their best moves on the dancefloor while you are barely digesting your plate of food. This is just how Greeks, young and old, celebrate.

Share this entry